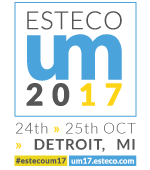 ESTECO has announced that the 5
th
edition of its
North American Users' Meeting
will take place on
October 24th-25th, 2017
at the Ford Piquette Plant in Detroit, Michigan. The gathering of modeFRONTIER and VOLTA enthusiasts provides a
unique forum for sharing knowledge
and learning about the latest applications, methods and techniques used to advance product innovation through simulation and design optimization.
Every two years, the event hosts more than 100 attendees and 10 speakers presenting industrial cases from important companies such as Ford, Toyota, Bombardier, MMI Engineering, Borgwarner and Whirlpool. Prominent speakers at past meetings have included Robert Lotz - Senior Project Engineer for aerodynamics at BorgWarner Turbo Systems - and Mario J. Felice - Manager of Global Powertrain NVH & Systems CAE Department at Ford Motor Company.
On October 24th, 2017, a rich agenda of presentations from industry and academic experts will outline the most advanced application scenarios for optimization technology. On October 25th, attendees will have the opportunity to take part, for free, in advanced and basic Training Courses to get hands-on experience with ESTECO technology and find out about the latest features.

Five good reasons to attend UM17:

Check out the new features of the best-in-class process integration and multiobjective optimization platform

Learn how ESTECO technology is used to drive the design process in the aerospace, architecture, automotive and manufacturing industries

Meet industry colleagues and ESTECO Team members, including modeFRONTIER and VOLTA developers

Attend the training sessions scheduled on October 25th to keep pace with new features and improvements

After a full day of presentations, enjoy a guided tour of Ford Piquette Plant museum
ESTECO technology gives its users a competitive edge throughout the product design process; it is the secret to their success and the driving factor behind the development of their most innovative products. Come and check out our latest available software previews.
don't miss
this year's event!